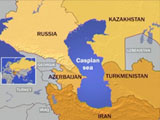 Deputy foreign ministers of the Caspian littoral states have come together in Azerbaijan's capital Baku to discuss a draft agreement on Caspian regional security. Azerbaijan`s deputy minister of foreign affairs, Khalaf Khalafov, told the meeting the draft agreement had been on the agenda of Caspian experts for almost two years.
"It aims to create a mechanism for security cooperation in the Caspian region. We believe that the adoption of this document will lead to improvement in the legal regime in the Caspian," Khalafov said.
He said that a separate convention on the legal status of the Caspian would soon be discussed in Iran.
Khalafov said the meeting could be considered as preparation for the Caspian summit of heads of state to be held in Baku on 18 November.
Iran`s deputy foreign minister and adviser to the Iranian president on Caspian issues, Mohammad Mehdi Akhundzadeh, said nothing could prevent cooperation in the region.
"This region belongs to the people living here and everyone wants strong cooperation, based on neighbourly and friendly relations."
"We showed a very wise decision that resulted earlier in the approval of the framework agreement on the environments of the Caspian Sea. The current agreement will be the second golden page in the history of our relationship, and it will benefit the people living in the littoral states," the Iranian diplomat said.
"Nothing can ever hinder the cooperation of Caspian states."
The head of the international law department at Kazakhstan`s Foreign Ministry, Zulfiya Amonjanova, described the agreement as a priority on the agenda of the Caspian summit.
The diplomat said Kazakhstan would submit a draft agreement on border cooperation to the summit.
Russian Deputy Foreign Minister Sergey Ryabkov said that despite progress on a number of issues in March, some serious problems remained unresolved. He called on the sides to show understanding. "I believe the Caspian littoral states are able to make security commitments," Ryabkov said.
/AzerTAc/