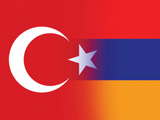 In search of "Armenian treasure", four Turks dug a tunnel with a depth of 43 meters in the province of Maras in Turkey where large number of Armenians lived till 1915.
Three treasure hunters, believing that they have found a place of a historic cemetery at Karaelbistan church in Marash, came to an agreement with a man who lived near the cemetery and began to dig a tunnel to the church, which supposedly lies at a depth of 6 meters, from the man's house, according to Turkish Milliyet newspaper.
In three months, Turks dug a tunnel with depth of 43 meters, reached the door with a cross, but did not open it out of fear that there can be poisonous gas, or a trap inside it and left the tunnel.
Later, treasure hunters began a quarrel, and the landlord applied to the gendarmerie. All participants of the "covert operation" were delivered to the police, and released after testimony.
/Vesti.az/