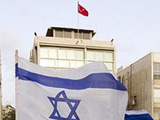 A man carrying a knife and a toy gun broke into the Turkish embassy in Israel Tuesday and attempted to take a diplomat hostage before being overpowered by security, Turkey's foreign ministry said.
The intruder, who identified himself as a Palestinian, climbed to the first storey of the mission in Tel Aviv, smashed a window and broke in, "carrying a knife, a jerry can and a gun which later turned out to be a toy," the statement said.
He began shouting about wanting asylum and attempted to take the deputy consul hostage before being overpowered by the embassy's security staff," it said, without specifying how the man was subdued.
"The person is being question by our side and an in-depth inquiry is being carried out into the incident," it said.
No one from the embassy staff was hurt, the ministry added, making no mention of the condition of the intruder.
"We are trying to establish the identity of the person - a male - and understand what his intentions were," a Turkish diplomat, who asked not to be named, told reporters.
The diplomat could not say how long the man would be held at the mission.
"This person stormed into Turkish territory and attempted to take one of our diplomats hostage.... Naturally, we will have contacts with the Israeli authorities," he said.
/Hurriyet Daily News/