According to Ytro.ru website, Turkish authorities closed the airspace for the Israeli planes, according to a statement made by Prime Minister of Turkey, Recep Tayyip Erdogan.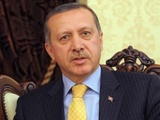 Relations between Turkey and Israel had sharply deteriorated following the May 31 Israeli military attack on the "Freedom Flotilla" which was carrying humanitarian supplies to Gaza Strip. 9 people, including 8 Turkish nationals, were killed during the attack, 19 more were injured. In response, the Turkish parliament demanded the government to review relations with Israel.
Turkey also insists on the return of its seized ships, which carried humanitarian supplies to the Gaza Strip, as well as an international investigation and compensation for victims.
/Ytro.ru/