The Washington-based Center for Strategic and International Studies will host a conference on the United States' strategy in the South Caucasus and Caspian basin.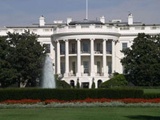 The conference, slated for June 24, will highlight unsolved conflicts as well as the US` policy priorities in the region.
The conference will feature reports by Ariel Cohen, Senior Research Fellow at the Heritage Foundation, Frederick Starr, Chairman of the Central Asia-Caucasus Institute, and Stephen Blank and Jon Chicky, professors at the US National Defense University.
Azeri MP Asim Mollazadeh will make remarks at the event to highlight Azerbaijan`s position on ongoing processes in the South Caucasus and Caspian regions.
The conference will also feature discussions on the impact of the Turkish-Armenia rapprochement on regional situation, settlement of the Armenia-Azerbaijan Nagorno-Karabakh conflict, and results of a recent visit by US` Defense Secretary to Azerbaijan.
/AzerTAc/