Iranian President Mahmoud Ahmadinejad has called for preparing the ground for the resumption of the Umrah Hajj pilgrimage to Mecca.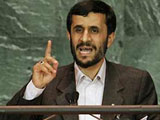 The president made the appeal in a meeting with the Iranian officials in charge of Hajj affairs in Tehran on Tuesday.
Iran's Hajj and Pilgrimage Organization announced on January 16 that the participation of Iranians in the Umrah (minor Hajj pilgrimage) ceremonies in Saudi Arabia would be temporarily suspended in the coming year.
The decision came after Saudi officials failed to provide an explanation for the mistreatment of Iranian pilgrims during the last Hajj season in the Arab kingdom.
Ahmadinejad also stressed the necessity for the expansion of "friendly and brotherly relations" with Saudi Arabia.
The president noted that the "dignity and stature" of Iranian pilgrims should be preserved during Hajj.
Earlier, Head of the Hajj and Pilgrimage Organization Ali Layali told the Iranian Students News Agency (ISNA) that the mistreatment of Iranian pilgrims by the Saudi police officials has prompted Tehran to negotiate with Riyadh "to agree on certain conditions."
He added that an Iranian delegation would hold talks with Saudi officials soon and expressed hope that the negotiations would yield desired outcomes.
"If we reach an understanding with the Saudi side, we will resume the Umrah Hajj in the shortest time," he said.
Iranians account for almost a quarter of the total 3.7 million people, who annually visit Saudi Arabia for Umrah pilgrimage.
The temporary suspension of the Umrah pilgrimage has raised serious concerns among various service providers in Saudi Arabia.
Fayyaz Siddiqi, chief operating officer of Hajeej Travel, noted that Umrah service providers earn an average of SR750 ($200) from providing pilgrims with visa services, accommodation and transportation after arrival.
Siddiqi added that if Iranians do not attend the Umrah pilgrimage in Saudi Arabia this season, hotels and related businesses in Mecca and Medina could easily suffer a loss of up to SR700 million.
He noted that the absence of Iranian pilgrims this year would significantly lower the price for accommodation in Mecca and Medina.
/Press TV/