The Democratic Movement - United Georgia leader, Nino Burjanadze, called the opposition to unite in the struggle to change the authority.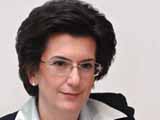 The only way out of this situation is the pre-term presidential elections, she told media.
"We like to be first in everything. But one should not be proud when one is awarded with the first place for a lie. Today, we are in a very difficult situation. People laugh at us in the international arena. Earlier, they laughed at the president, but now at entire Georgia. It is impossible to accept the situation which we tolerate, " Burjanadze said.
She also urged all politicians to realize that Georgia is an independent state and all decisions should be taken independently.
/Trend News/