After long hours of debate, Iran's Majlis (parliament) has passed the budget bill for the new Persian calendar year starting March 21st.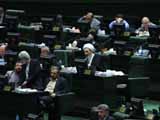 The bill encompasses measures that give President Mahmoud Ahmadinejad the go-ahead for the first phase of his major economic reform plan.
Less than a week to the Persian New Year, lawmakers wrapped up 14 long sessions of debate and passed the much anticipated budget bill allowing the government to eliminate USD 20 billion worth of subsidies rather than the USD 40 billion that President Ahmadinejad had asked for.
This is the first phase of the Iranian president's major reform plan to make fundamental changes in Iran's economy, a topic that has sparked debates over the past year.
"Everyone agrees that the current subsidy system is wrong. The question is how to redirect the subsidies. In parliament, we believed that this should be done over a period of five years to reduce the negative effects, particularly on the inflation rate," lawmaker Mohammad Reza Khabbaz said.
The government is currently paying USD 100 billion in subsidies and President Ahmadinejad says the faster changes are made, the easier it will be for the nation to adapt.
Last Tuesday, debates continued behind closed doors, as President Ahmadinejad tried to convince the nation's representatives in Majlis.
"The president told us that the USD 40 billion would not increase the current 11.8 percent inflation, rather it would reduce it because it will not be adding to the liquidity," another lawmaker, Vali Esmaeeli said.
Esmaeeli added that if parliament disagrees, it will become difficult for the government to go through with the plan.
Only 105 lawmakers agreed, the remaining members of parliament were of the opinion that such a rapid change might trigger a 50 percent surge in inflation.
"If we were to agree with the USD 40 billion, it would definitely affect the calculations regarding the prices of fuel and food," lawmaker Mohammad Taqi Rahbar said.
"It would create a shock so we disagreed….The government should not expect parliament to agree with everything it proposes."
The next year's budget in terms of resources and spending stands at USD 360 billion based on an oil price of USD 65 per barrel.
Now that parliament has passed next year's budget bill, Iran prepares itself for the first phase of major economic reforms which includes the redistribution of state subsidies for food and energy – something that critics believe will negatively impact the country's inflation rates.
/Press TV/