Turkish President Abdullah Gul said that Turkey could contribute to the development of Democratic Republic of Congo.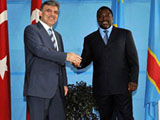 Addressing the Turkey-Democratic Republic of Congo Business Forum, President Gul reiterated the support Turkey attached to relations with African countries.
Gul said the world has humanitarian responsibilities for Africa, "differences between the north and the south can not continue forever. It is unacceptable that the north is rich but the south lives in hardships despite its rich resources."
Turkish President said stability and security should be restored, good relations with neighbors should be established and conditions for liberalized market conditions should be formed for development, and noted that Democratic Republic of Congo took noteworthy steps in economic and political sense.
Gul said Turkey was eager to establish sincere and honest relations with this country, "reciprocal and continuous relations can only take place through 'win-win' understanding" he said.
"Turkish private sector achieved many success inside and outside the country. Turkey does not have oil or gas but this was good for us because thus we learned to work and manufacture. Turkey may contribute to development of Democratic Republic of Congo," he said.
Gul said Turkish contractor sector ranked the second in the world, and noted that Turkey and Democratic Republic of Congo could cooperate in contactor services, forestry industry and mining.
Gul underscored that there was strong political will in both countries to boost economic and commercial relations. "Don't miss the opportunities," he said.
Adolf Muzito, prime minister of Democratic Republic of Congo, said his country's commercial relations started to bear fruits and expressed eagerness to boost relations with Turkey.
Muzito said his country has a potential to play a determining role in the future in economic sense, and noted that Democratic Republic of Congo has an investment capacity in hydroelectric area.
He said reform efforts were underway in Democratic Republic of Congo to provide a positive environment to foreign entrepreneurs, underscoring that political stability was restored and there was no security problem in his country.
Turkish Industry and Trade Minister Nihat Ergun said Turkey attached importance to Africa within the scope of its target to diversify and enrich its foreign policy.
Ergun said Turkey's foreign trade volume with the Democratic Republic of Congo amounted to 20 million USD in 2009, describing this figure as very low.
Ergun said Turkey was eager to boost trade volume to 100 million USD.
/World Bulletin/