Minister of Defense Brigadier General Ahmad Vahidi said Monday that the recent statements of his US counterpart have disclosed Washington's vicious goals in the region.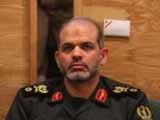 The minister said that comments of US Secretary of Defense Robert Gates about Iran's alleged missile threat to the regional countries have unveiled Washington's intention to create tension and sow discord among regional states.
Gates has recently made a visit to the Persian Gulf littoral states to attract their support for US anti-Iran policy.
"US efforts to promote the Iran-phobia policy among regional states and its claims over Tehran's support for Taliban in Afghanistan have stemmed from Washington's fear from mounting friendly ties between Iran and the Persian Gulf littoral states," Vahidi said.
He added that such policies were "outdated and not reliable any more."
The minister reiterated that Iran's military might was only to serve regional peace and stability.
/Irna/