The Iranian customs officials detained the person who tried to smuggle contraband into Azerbaijan in large quantities.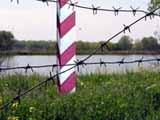 A person involved in smuggling was detained, Iran's Customs Agency's Spokesman Mohammad Behbud Ahani said. According to him, the person was detained while trying to smuggle crystal products through the Astara customs checkpoint under the guise of glassware, the goods were confiscated.
He said the total value of seized goods is $1.4 million.
Earlier this person has repeatedly been delayed at customs in connection with an attempt to undervaluation of goods, he said.
/Trend News/