Turkey's unemployment rate increased 0.4 percent to 13.5 percent in December 2009, Turkish Board of Statistics, TurkStat, said on Monday.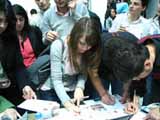 Unemployment rate was 13.1 percent in November 2009.
According to the TurkStat's Household Labor Force Survey for December 2009, number of unemployed people increased 29 thousand to 3.3 million.
Labor force participation rate was calculated as 47.6 percent.
Unemployment rate was 15.6 percent in urban areas and 9.2 percent in rural areas in December 2009.
/World Bulletin/