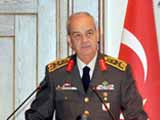 Turkey's military chief denied reports that top commanders had threatened to resign en masse after more than 30 officers were arrested last month on charges of planning a coup in 2003, Milliyet said on Sunday.
There are several plots being investigated, but General Ilker Basbug told Milliyet newspaper the investigation into the 2003 Operation Sledgehammer was "the most serious".
Scores of officers were detained, including the former heads of the navy and air force, in the sweep launched by prosecutors in late February. While the two former service heads were released without charge, more than 30 others were charged.
Prosecutors have still to file the formal indictment.
According to previous media reports on the Sledgehammer plan, the army had plotted to provoke Greek fighter jets into shooting down a Turkish military jet and planned to plant bombs in mosques and museums in Istanbul to stir chaos.
"The incident is serious and up until now has perhaps had the most important effect on the Turkish Armed Forces," Basbug told the newspaper without elaborating.
Asked about Turkish media reports that commanders had threatened to step down following the arrests, Basbug said: "No, there was definitely nothing like this. It was not discussed, debated or expressed."
The officers under suspicion attended what the military has characterised as a war-games scenario, in which plans that could destabilise the government were mapped out.
In another alleged plot, a military prosecutor is carrying out a "comprehensive and multi-dimensional" probe of a colonel whose signature may have appeared on a document outlining a conspiracy to undermine the government, Basbug also said.
He declined to say whether any other serving officers are under investigation.
A military court last month rejected the prosecutor's request to arrest the colonel. He can only be dismissed from his post by the Defence Ministry if he is charged, Basbug said.
Constitutional amendments in Turkey need a two-thirds majority of the parliament, which requires the government to receive support from opposition parties to pass the reform.
If not received, Erdogan may call a referendum over planned constitutional changes to reform the judiciary.
The AK Party, which first swept to power in 2002 ending the secularists' decades-old grip, has enough votes in the 550-seat parliament to pass a bill calling for a referendum.
/World Bulletin/