President Mahmoud Ahmadinejad's Chief of Staff Esfandiar Rahim Mashaei held a meeting with Iranian expatriates in Berlin on Friday evening.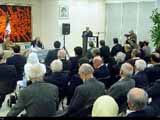 Welcoming the gathering, among them doctors, businessmen and university professors, Mashaei called for a further deepening of contacts with Germany-based Iranian expats.
He stressed the importance of meeting the needs of the Iranian community in Germany.
Mashaei said the government of Ahmadinejad had over the past four years placed a greater focus on the concerns of Iranians abroad than previous Iranian governments.
He pointed to government plans for the creation of 10 centers, dubbed the 'House of Iran', across the world which would specifically deal with concerns and needs of Iranian expats.
Referring to fraud allegations in the last presidential elections, Mashaei said the Iranian electoral system was designed in a way that any possibility of manipulation was
impossible.
He said all opinion polls ahead of the elections indicated that Ahmadinejad would win, therefore election fraud claims were basically wrong.
The head of the presidential office highlighted the fact that Iran's enemies resented its progress in various spheres, including the nuclear sector.
Mashaie strongly rejected Israeli claims about Iranian plans for an attack against the Zionist state.
He said Israel would not dare to attack a powerful country like Iran.
/Irna/