Georgian President Mikhail Saakashvili considers some opposition members' contacts with Russia a betrayal of national interests of the country.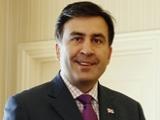 "There are people in Georgia whose hatred to the authorities transformed into hatred to own people; and these are ready, as in 1921, yield Georgia to Russia," he said at the ceremony of opening a Georgian-Turkish school.
He mentioned that Georgia can live without Russia and become a part of Europe.
Zurab Noghaideli, the ex-PM, Movement for Just Georgia leader, again headed for Moscow on March 9.
He will conduct a number of meetings and negotiations of the most important issues.
Last week ex-Speaker, one of the opposition leaders, Nino Burjanadze, visited the Russian capital and was received by PM Vladimir Putin.
/Georgia Times/