At its March 9 sitting, the interagency commission in charge of the 2009 Armenia-NATO Individual Partnership Program reported that the program was effectively implemented.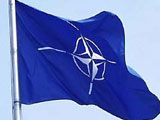 The press office of the Secretary of the Armenian National Security Council said that Commission Chairman, Secretary of the National Security Council Artur Baghdasaryan presided over the meeting.
Summing up the work, Baghdasaryan stressed that 122 special events took place under the program.
He emphasized the cooperation in revising the defense strategy and in the context of the planned emergency programs.
Baghdasaryan noted that the Armenia-2010 joint emergency management maneuvers will be conducted in Armenia this year.
In this context, he pointed out the necessity for a national civil defense strategy and a military education doctrine.
If all the planned programs are effectively implemented, the elaboration of a new NATO program at the end of 2010 will enable to set new standards and implement effective reforms.
/News.am/