The Turkish delegation mulls consideration of the resolution on the so-called "Armenian genocide" by the U.S Congress in the United States, Turkish Foreign Minister Ahmet Davutoglu said.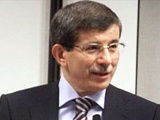 The U.S-Turkish relations have reached a higher level, and the U.S. should not risk the progress made in resolving the Armenian-Turkish relations, considering the matter, he added.  
"The United States has now two options: to turn all the progress achieved in relations between Turkey and Armenia and in general in the South Caucasus, to no, or to continue promoting the peace process in the region," he said. "We think they will choose the second path."
U.S. Congress International Relations Commission Chairman Howard Berman proposed to submit the issue for consideration March 4.
Armenia claims that the Ottoman Empire committed genocide against Armenians living in Anatolia in 1915.  Making greater efforts to promote the issue internationally, Armenians have achieved its recognition by parliaments of some countries.
/
Trend News
/