The Central Bank of Turkey forecast on Thursday a decrease in inflation figures in the last months of 2010 and the first months of 2011.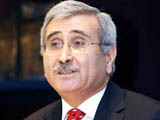 The Central Bank released a statement in which it assessed the monthly and annual inflation figures in February 2010, and said it expected vegetable prices, which had increased due to bad weather conditions in February, would partially be better in March.
On Wednesday, Turkey's Statistics authority, TurkStat, announced the monthly rise as 1.45% in Consumer Prices Index (CPI) and 1.66% in the Producers' Prices Index (PPI) in February 2010.
The year-on-year rise, as of February, has been 10.13% in the CPI and 6.82% in PPI. The total rise in the first two months of 2010 has been 3.32% in CPI and 2.25% in PPI.
In its statement, the Central Bank said the rise in inflation stemmed from temporary factors like the unprocessed food prices, tax arrangements and low base like the same month of the previous year.
The bank said the contribution of rises in food and tobacco prices to monthly consumer inflation was 1.62 points in February.
"The price of unprocessed food products was up almost 10 points annually, and in addition to the rise in vegetable prices, the meat prices also increased, which had a negative effect on the hike in unprocessed food products," the bank said.
In its statement, the bank forecast a limited rise in inflation till mid-2010 due to the base effect of core inflation indicators.
The Central Bank of Turkey revised on February 22 its year-end inflation expectation up by 0.05 point. It raised the year-end inflation rate for 2010 from 7.5 to 7.55 percent.
On Monday, the Istanbul Chamber of Commerce (ITO) released its cost of living index for wage earners in February 2010 and said retail prices were up 0.38 percent and wholesale prices were up 1.62 percent month-on-month in February. The 0.38 percent rise in retail prices was the highest inflation rate recorded in February in the last four years, the chamber said.
According to ITO's index, the retail prices rose 12.27 percent year-on-year and the wholesale prices increased 8.52 percent year-on-year in February.
The chamber projected the year-end inflation figure between 11.16 and 13.39 percent.
/World Bulletin/