Speaker of the Turkish Parliament Mehmet Ali Sahin said Wednesday Turkey is a country more democratic than in the past.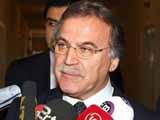 Speaking at a joint press conference with Gianfranco Fini, President of the Italian Chamber of Deputies, in Italian capital of Rome, Sahin said that Turkey is more democratic compared to the past and is a state based on the rule of law.
All Constitutional institutions are strongly attached to democratic principles. Meanwhile, the Turkish Armed Forces (TSK), as a democratic institution, acts within democratic rules and principles, Sahin underlined.
Turkey views full membership in the European Union (EU) as a strategic goal and is determined to move in this direction, Sahin said.
Fini, in his part, said that the Turkish Parliament played a great role in Turkey's EU process.
The (Turkish) government and opposition have jointly made efforts for Turkey's EU process, Fini emphasized.
Whenever necessary and crucial, the Turkish Parliament have made Constitutional amendments. This is rather an important matter, Fini also said.
/Turk.net/