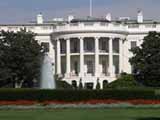 White House Spokesman Robert Gibbs said Tuesday that time and patience is running out for Iran, warning there would be "consequences" if Tehran goes on to develop its uranium enrichment capacity.
Gibbs said Iran's announcement that it is considering building two new enrichment sites showed "they have no interest in building international confidence that their nuclear program is for peaceful means."
Head of the Atomic Energy Organization of Iran (AEOI) Ali Akbar Salehi said Monday that Iran may start to build two new enrichment sites in the Iranian new calendar year which starts on March 21, the ISNA news agency reported.
Gibbs warned of "consequences" if Iran goes on with the plan. He said Monday the United States is working on the "strongest sanctions that have ever gone through the Security Council" since last year's Resolution 1874 targeting the Democratic People's Republic of Korea (DPRK).
Iran has been at the center of an international dispute over its nuclear plan. The United States and its Western allies have been accusing Iran of secretly developing nuclear weapons under the disguise of a civilian program. Iran has denied the accusation and stressed its nuclear program is only for peaceful purposes.
/Trend News/