Nasuh Mahruki, the first Turkish climber ever to summit Mount Everest, is set to try the roof of the world for a second time.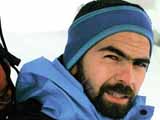 Mahruki is scheduled to begin scaling Everest on March 30 and he is planning to reach the summit by June 3, the latest.
Mahruki says he will try the summit without using oxygen tanks to become the first Turkish climber to ever reach the peak of the world's highest mountain without oxygen aid.
Mahruki climbed Everest for the first time fifteen years ago when he was 28. Fourteen other Turkish climbers reached the 8848-meter peak since then.
The Turkish climber will share moments of their expedition on a regular basis on the Internet.
/World Bulletin/