Leader of the Sunni terrorist group Jundullah (Soldiers of Allah ) Abdolmalek Rigi was at U.S military base in Afghanistan a day before the arrest, Iran's Intelligence Minister Heidar Moslehi said.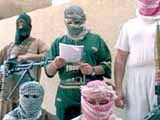 "We have a photo indicating staying of Rigi at the U.S. base for 24 hours before his arrest," he said.
He also added that the Americans gave Rigi an Afghan passport and identity card to be able to travel freely to Pakistan.
"We also have information that Rigi met with the commander of NATO in Afghanistan in April 2008, " Moslehi said.
He noted that all details relating to the detention of Rigi, will be published later.
Moslehi said that Iran has authentic documentation to prove the cooperation of Rigi with the USA, Great Britain and other Western countries.
"These documents helped us to arrest Rigi," he added.
Iranian authorities have blamed Jundullah in mass killings, armed robberies, kidnappings, bombings and sabotage.
Jundullah, led by Rigi, operates in the south-east of Iran, and belongs to the Sunni group of Islam. The movement organized bombings that killed soldiers and policemen.
The last major terrorist attack was an explosion in south-east of Iran in October 2009. About 50 people were killed that time. Jundullah took the responsibility for this attack.

/Trend News/