Turkish Foreign Minister Ahmet Davutoglu had a meeting with Spanish Foreign Minister Miguel Angel Moratinos in Madrid on Sunday.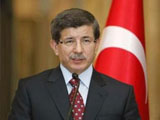 Davutoglu, who is paying a visit to Madrid for the 2nd Turkey-Spain Intergovernmental Summit, had a closed-door meeting with Moratinos.
Officials said Davutoglu and Moratinos discussed diplomatic initiatives regarding Iran's nuclear energy, Davutoglu's visit to Tehran, Turkey's EU accession process and Cyprus issue in the meeting.
Moratinos said Spain fully supported Turkey's EU membership bid.
Davutoglu and Moratinos also discussed bilateral trade volume which dropped to 6 billion euros due to economic crisis. A new strategy would be determined to boost the volume, officials said.
Davutoglu also had a meeting with representatives of leading foundations and think-tank organizations in Madrid.
/World Bulletin/