Iran's deputy foreign minister for European affairs said the sound of the Islamic world should be echoed at the UN Security Council.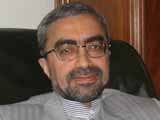 Ali Ahani, visiting Croatia for presidential inauguration ceremony, made the remarks in his meeting with a Croatian Mufti in Zagreb.
Ahani said that the system of the world management should be reformed to that end. Unfortunately, inadequate solidarity among the Islamic nations has posed obstacle for Islam to gain its prominent place in the world, Ahani said.
Islamic bodies have to assume the heavy responsibility of fighting the Islamophobia plots in the West and part of the world media, he said. Meanwhile, the Croatian Mufti in the meeting criticized the silence of the Islamic states on the anti-Islamic movements.
/Irna/