Standard & Poor's Ratings Services said on Friday that it raised its long-term foreign currency and local currency sovereign credit ratings on the Republic of Turkey to 'BB' and 'BB+', respectively.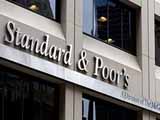 A statement by the Standard & Poor's said that the outlook is positive, reflecting the possibility of an upgrade over the next 12-24 months.
"The upgrade reflects our view of the Turkish government's improving economic policy flexibility as a result of its strong track record in steadily reducing the debt burden over the past decade," said Standard & Poor's credit analyst Frank Gill.
"It also reflects our opinion of the success of Turkey's regulatory institutions in preserving the solidity of the financial sector, despite external adversity. Standard & Poor's believes Turkey's banking system to be one of the strongest and least-leveraged in Eastern Europe."
"The positive outlook on Turkey reflects the likelihood of an upgrade over the next 12-24 months if we considered that a deeper financial and capital markets stabilization and the country's success in weathering the global turmoil allowed it to return to its prior rates of growth with less dependence on external funding," said Gill.
/World Bulletin/