A Turkish Airlines (THY) passenger plane, on a flight from Johannesbourg to Istanbul, had to make an emergency landing because of a technical failure shortly after it took off.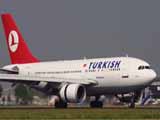 Airbus A340 THY plane had to return to Johannesbourg 5 minutes after departing from the airport at 8.15 p.m. on Thursday evening.
Spare parts were sent from Istanbul to Johannesbourg to fix the problem with the plane's cabin pressure.
THY is Turkey's national airline company and one of the fastest growing carriers in Europe.
/World Bulletin/