Flaws of track in Whistler and mistake of organizers can be reasons of death of Nodar Kumaritashvili's, killed in accident while training, only several hours before the Olympics.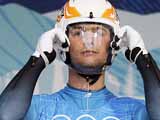 The supposition was voiced by the National Olympic Committee of Georgia at a press conference held on Feb. 18.
The president of the Committee, Giya Natsvliashvili, ruled out Nodar's being inexperienced.
He added that the "sportsman mustn't have fallen out of ice channel."
"If it didn't happen, there would be nothing dangerous further," he noticed.
"In my view, it's a fault of the track. As for the further actions, let's wait for the results of the investigation and decide the rest with the family," Natsvliashvili said.
Vakhtang Gegelia, vice president of the NOC of Georgia, said two investigations are being conducted in Canada: in police and in the technical committee of the International Olympic Committee.
"The conclusion of the IOC will be public and imply no criminal responsibility. As for the investigation of police, in case the prejudicial inquiry reveals signs of crime, a criminal case can be brought later," Gegelia explained.
/Georgia Times/