Turkish Central Bank left its benchmark interest rate unchanged, overnight borrowing rate at 6.50 percent and lending rate at 9 percent.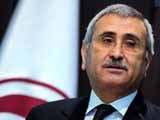 Following the Monetary Policy Committee meeting on Tuesday, the bank said that recent data releases suggested an ongoing moderate recovery in economic activity.
Turkish Central Bank continued to cut overnight interest rates during the whole year in 2009. However, the last time the bank lowered interest rates quarter base points --to 6.5 percent in overnight borrowing and to 9 percent in lending rates-- was November 2009.
"Domestic demand displays a gradual growth trend while there are still uncertainties regarding the external demand, suggesting that it will take a while before the capacity utilization rates return to pre-crisis levels," the bank said in its statement.
"Although there has been a mild improvement in employment conditions, unemployment rates remain at high levels. Therefore, resource utilization is expected to stay at low levels for some time."
The bank also said it expects inflation would continue to rise significantly in February and hover above the target for some time due to impact of tax adjustments, unprocessed food price increases, and base effects.
"Core inflation indicators would also increase until mid-year, yet remain below the target throughout the year. In this respect, it has been emphasized that inflation would display a declining trend once the temporary factors taper off," it said.
"Credit markets have continued to improve in response to the monetary easing and the improvements in global risk perceptions. However, lingering problems across the global economy are not resolved completely and there are still uncertainties regarding the strength of the recovery."
"Accordingly, the Committee has reemphasized that it would be necessary to keep policy rates at low levels for a long period of time."
/World Bulletin/