The top NATO commander in Afghanistan restates his request for combat troops and praises Turkey's role as he meets with Turkish journalists visiting a Turkish military camp in the war-torn country.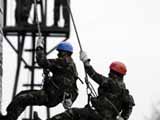 'Turkish forces are exactly where I think they should be. I think all coalition forces have learned a lot by emulating the way they operate in this environment,' he says.
Reaffirming America's insistence for more combat troops, the top U.S. commander in Afghanistan renewed his call Wednesday for more soldiers from Turkey and other NATO allies. He also hailed Turkey's current role and leadership in Afghanistan.
"The request for forces that I make goes to NATO and I don't ask for particular countries, I just ask for good forces and I hope we get them," U.S. Gen. Stanley McChrystal, who is also the top NATO commander in Afghanistan, told a group of Turkish journalists at Camp Doğan, one of the three Turkish bases in Kabul.
"Coalition forces are going to increase, not just American forces, and I think that is more focused on the requirements for the future so that we can secure more of the population," he said.
McChrystal declined to name a nation, however, saying only: "I cannot answer that any particular nation has been approached and right now I am very satisfied with the operations Gen. Çolak and his forces are doing everyday. I'd like to continue with who we work with."
Brig. Gen. Levent Çolak is the top Turkish commander in Afghanistan and the current commander of the International Peacekeeping force that is guarding the Afghan capital.
"Turkish forces are exactly where I think they should be. I think American forces and all forces in the coalition have learned a lot by watching them, emulating the way they operate in this environment," said McChrystal.
On comments on U.S. plans to withdraw from Afghanistan in 2011, he said: "For American forces, President Obama has said that in 2011 he will begin to withdraw American forces but that the speed which they will withdraw will be based on conditions, the situation of the time."
His comment has been interpreted as meaning that the troop pullout may take time. "I think more important is all of NATO has promised the people of Afghanistan a strategic partnership and the intent is to keep forces here only as long as it is necessary for Afghanistan to build its own police and military."
Asked what the U.S. would do if a more powerful country would drop bombs on it like the U.S. did on Afghanistan, McChrystal said: "I believe that if a force is there to help a country protect its own sovereignty then I would cooperate with that force if it was a coalition like this. So I believe that if I thought people were there to help me, my family, my countrymen, I would cooperate."
While explaining the mission of coalition forces in Afghanistan, he said: "That is a coalition of 44 nations. And what is unique about that is this coalition is all here to help Afghan people and that's different from when people talk about Afghanistan being a graveyard of empires. This is not an empire. This is a coalition all dedicated to giving the Afghan people the opportunity to shape their own future."
Before the U.S. war, the Russians invaded Afghanistan in 1978. In response to a question on what the difference is between the Americans and the Russians except for bringing more tears and bloodshed, the general said: "It is difficult for me to judge history. But I believe that the perspective is important. I believe the Russians were viewed as trying to change the Afghan society and viewed as an occupying power and I don't believe that our coalition is trying to change the Afghan society for the worse, and I think that we are not viewed as an occupying power."
He stressed: "If Turkey's forces were not here, and other coalition members, would young girls have the same opportunity to go to school? Would there have been an election like there was – whether perfect or not – would there have been an election?"
In response to a question about the location of the terrorist leaders, including Osama bin Laden and Mollah Omar, the U.S. commander said: "I think capturing and bringing to justice those leaders is a priority. It is a priority for us, but right now I have no intelligence that says those leaders are in Afghanistan now."
Compared to what he thought last summer in his report about the situation in Afghanistan, he said: "When I issued my report last summer, I thought in some ways the situation is deteriorating, but I believe that has changed. I believe the situation is still serious and we've got to take careful efforts to continue to improve the situation but I believe we can do that."
Afghan President Hamid Karzai formally announced a peace plan at an international conference in London to integrate moderate Taliban into a political settlement, with the U.S. coming to an understanding that it is necessary to support military means with a political solution.
"I think that all conflicts typically end in a political solution and I certainly am not the right person to evaluate President Karzai's political course because he is in a position to change that," said the U.S. general.
"What we will try to do in the military and security forces is to try to create conditions that increase security for the Afghan people and the strength of the Afghan government so that they can seek whatever final political solution they are in a position to make with fairness and justice for everyone. I believe that President Karzai's position toward the current Taliban is that he will let each of those participating in the insurgency decide for themselves whether they are moderate or whether they want to rejoin the Afghan society," he said.
/Hurriyet Daily News/