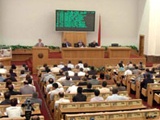 On Jan. 29, at its sitting chaired by Hrair Karapetyan, head of Standing Committee on Defense, National Security and Internal Affairs, Armenian Parliament discussed and approved the bill on Legal Regime of Emergency Situations.
Armenia needs a law that would regulate the restrictions on fundamental human rights and freedoms in case of emergency situations in the country, the parliament's press office said.
The only instance a state of emergency was declared in Armenia was on March 1, 2008.
The Opposition claimed the then President Robert Kocharyan had violated the law.
Now, therefore, the authorities are trying to validate the emergency regime.
/News.am/