President Ahmadinejad stressed that on February 11, 2010 the nation would witness the funeral procession of capitalism adding that Iran not pursuing nuclear weapon.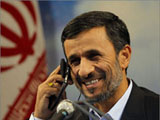 "We do not let capitalist's powers dominate regions future, they (Western powers)should be courageous and say they are fighting over oil, culture and politics," President Mahmoud Ahmadinejad said.
"We have the courage to say we are not pursuing to build nuclear bomb and if we want that we do not ask your permission."
President Ahmadinejad spoke of the ten day celebration of the 1979 Islamic revolution as the most outstanding occasion in the country and added that February 11 is height of the occasion.
He also reiterated that Iranians would respond to the world arrogance during this year's national ceremonies to mark the Islamic Revolution victory anniversary in Iran (February 11).
/ILNA/