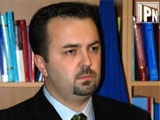 Based on the requests of teachers, parents and high school students and upon initiative of the President of Georgia, the Ministry of Education and Science of Georgia is introducing new technical and substantial standards for school textbooks approval.
The field experts are actively involved in this process. The necessity of improving and tightening the approval rules was highlighted during the meeting.
As the Minister said, from 2011, used textbooks market will be set up, which will solve a problem for the high school students from socially vulnerable families.
This market will also reduce the price of the textbooks.
Apart from the technical components, substance of the textbooks shall also be improved.
As a result of the meeting of the Minister with teachers, high school students and their parents, a need for enhancing the quality of Georgian ABC textbooks was emphasized.
Dimitri Shashkin said that the specialists who approve the textbooks will actively work on this issue in order to convey the recommendation of the Minister to the relevant institutions concerning the return of the adapted version of the original Georgian ABC book to schools.
/Georgian Times/