Turkish Parliament Speaker Mehmet Ali Sahin arrived in Kampala, capital city of Uganda.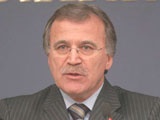 Sahin is set to attend the fourth conference of the Parliamentary Union of the Organization of the Islamic Conference (OIC) member states.
Sahin said on Thursday that OIC conference would be an appropriate basis to discuss Cyprus problem and the problems of Turkish minority in Western Thrace.
Speaking to reporters at Ankara's Esenboga Airport prior to his departure for Uganda, Sahin said that OIC was an international prestigious organization which was consisted of 57 member states having nearly one billion population. He added that the visibility and activities of the organization increased not only in regional but also in global issues in recent period.
Sahin said that participants of the conference in Uganda would discuss Palestinian issue, Darfur, Sudan, non-proliferation of weapons of mass destruction in the Middle East, strengthening of solidarity among Islamic countries and boosting the dialogue between parliaments of western world and Islamic world.
He noted that the conference would be completed on January 31 with a final statement and adoption of several drafts of decision.
Sahin said that he would also hold bilateral meetings with parliament speakers of other participant countries.
Recalling that Turkey declared 2005 as "African Year" and targeted to open 15 embassies in African countries, Sahin said that Turkey decided to open an embassy in Uganda as of March 1, 2010 and appointed Ahmet Melih Ulueren as the ambassador.
Parliament speakers from 50 countries will be in attendance at the conference on Saturday.
Sahin is also scheduled to meet with Turkish businessmen operating in Uganda.
The Parliamentary Union of the OIC member states was established on June 17, 1999. 50 parliaments are the members of the Union. 11 regional and international organizations and parliaments are observers of the Union.
OIC is an international organization with a permanent delegation to the United Nations. It groups 57 member states, from the Middle East, Africa, Central Asia, Caucasus, Balkans, Southeast Asia and South Asia. The official languages of the organization are Arabic, English and French.
/World Bulletin/