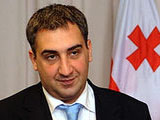 On Jan. 26, Armenian President Serzh Sargsyan received Georgian Premier Nikoloz Gilauri within the framework of the 8th session of Armenian-Georgian Intergovernmental Commission for economic cooperation.
"Armenia and Georgia are friendly neighbors and we should meet frequently to discuss wide range of issues. Bilateral cooperation and level of mutual relations impels us to touch upon these issues daily. We consider Georgia a brotherly and friendly country and are ready to intensify our relations," Serzh Sargsyan stated at the bilateral meeting.
Gilauri conveyed to Sargsyan Georgian President Mikheil Saakashvili's greetings and an invitation of a return visit.
The officials also exchanged views on the economic situation in the states, undertaken anti-crisis measures, as well as regional issues.
/News.am/