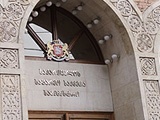 Foreign Ministry of Georgia strongly denies presence of defense, security or law enforcement structures' representatives in a mission sent to presidential elections in Ukraine.
The announcement was made by Nino Kalandadze, deputy Foreign Minister of Georgia.
According to Kalandadze, messages about enforcers and wrestlers in the mission are result of inner political struggle between presidential candidates.
"The Ministry of Foreign Affairs of Georgia directly participated in selection and sending monitors to Ukraine, and I can assure that only representatives of Parliament and NGOs were in our mission," Kalandadze.
At the same time, her data contrast with the photo and video materials Ukrainian and Russian mass media spread. Main characters of these footage are Interior Ministry employees, governor of one region, ministers of Georgian government and sportsmen.
/Georgia Times/