Georgia's Vice speaker Rusudan Kervalishvili introduced new chairperson and members of CEC on behalf of parliament on Jan. 20.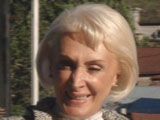 Parliament confirmed Zurab Kharatishvili as CEC chairperson, Gizo Mchedlishvili, Tamaz Sharmanashvili and Konstantine Kirvalidze as commission members Jan. 15.
Kervalishvili expressed hope that people elected by parliament will manage to hold open and transparent elections in Georgia and show example of democratic elections to the world.
Vice-speaker thanked opposition, NGOs and International commonwealth for their involvement in working process to improve election environment.
Khatiashvili states that fair elections may become real in Georgia. New CEC chairperson reiterated that he doesn't intend structural changes in the commission.
/Georgian Times/