Iran's Foreign Minister Manouchehr Mottaki says adopting regional approaches can ensure sustainable security and stability in the Caucasus region.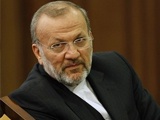 In a Wednesday meeting with former Armenian president Robert Kocharian in Tehran, Mottaki highlighted the age-old relations between Iran and Armenia and stressed the importance of maintaining calm in the Caucasus.
"The stability and security of the Caucasus must be strengthened with regional approaches."
"The interests of regional countries are served by strategic approaches that resolve regional woes and crises in the Caucasus region and guarantee sustainable security there," Mottaki was quoted as saying.
The senior Iranian diplomat added that faulty economic systems were to blame for the global economic recession.
"This [global economic] crisis revealed that the approaches based on post-WWII theories are no longer applicable and world countries by adopting new economic policies must lessen the role US dollar in transactions as well as their dependence on international monetary organizations."
Kocharian, for his part, pointed to the relations between Iran and Armenia, saying, "We will make every effort to expand relations with Iran."
He went on to describe the presence of foreign troops in the Caucasus as harmful to the security and stability of regional states, adding that regional approaches are the best solution for development and stability.
/Press TV/