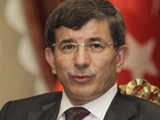 During his phone conversation with Armenia's counterpart, Turkey's Foreign Minister Ahmet Davutoglu expressed discontent with interference of Armenia's Constitutional Court in Armenia-Turkey protocols.
Davutoglu said that Armenia's Constitutional Court has announced preconditions to the protocols.
"It can cause problems in the relations between the countries in future."
The minister said Armenia must consider the protocols thoroughly as Turkey.
On Nov. 12, Armenia's Constitutional Court admitted commitments indicated in the Turkish-Armenian protocols - "Protocol on establishing diplomatic relations" and "Protocol on the development of bilateral relations" corresponding with the Basic Law.
The protocols were signed by Foreign Ministers of Armenia and Turkey Edward Nalbandyan and Ahmet Davutoglu in Zurich on Oct. 10, 2009.
/
Trend News
/