Iranian President Mahmoud Ahmadinejad stresses the importance of strengthening unity among regional countries to foil enemies' plots in the region.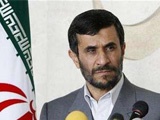 "Maintenance of unity and integrity among regional countries will be the only way to thwart the conspiracies of enemies," Ahmadinejad said in a meeting with Iraqi Vice President Adel Abdel Mehdi in Tehran on Tuesday.
"The enemies know that if the Iraqi nation enjoys welfare and security, their equations in the region will change. So, they are making efforts to inflict damage on Iraq," Mehr News Agency quoted Ahmadinejad as saying.
The Iranian president called on Iraqi authorities to remain vigilant and move toward establishing and strengthening the Iraqi government.
The Iraqi vice president, for his part, praised Iran's role in regional developments and called for enhanced relations between Tehran and Baghdad.
/Press TV/