Georgia's Prime Minister Nikoloz Gilauri held meeting with his Egyptian counterpart Ahmed Nazif in the course of his visit to Egypt.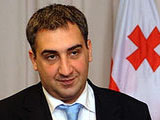 According to the State Chancellery press service, the sides discussed economic projects and investment environment in Georgia.
After the meeting Gilauri said the projects they discussed were very interesting. They imply possible export of Georgian wine and mineral water to Egypt, cooperation in energy sphere.
The PM added that with his Egyptian counterpart he spoke on prospects of Egyptian companies participating in construction of hydro energy plants in Georgia, projects of new transit highways to connect Egypt and Central Asia.
/Georgia Times/