An Armenian gunman was shot dead while trying to cross over the contact line towards Fuzuli region of Azerbaijan.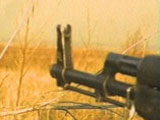 His identity has not been confirmed yet, local residents said.
The Armenian gunman ignored the warning of Azerbaijani soldiers and was shot dead by a sniper as a result.
His body was taken to the military hospital of Fuzuli region.
A gun was found on him during the examination, but it has not been specified yet whether he was a civilian or militant.
The Azerbaijani Defense Ministry was not available to confirm the report.
/
APA
/