Mayor of Tbilisi Gigi Ugulava accuses Russian Newsweek of wrong interpretation of his words.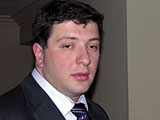 According to Ugulava's statement, he never said that Georgia could renounce joining NATO in case Russia withdraws troops from Abkhazia and South Ossetia.
"The published interview has many inaccuracies, which dramatically change of meaning of what have been said," the mayor said in a statement.
Ugulava highlighted that joining NATO is the choice of the people of Georgia as 75 percent have voted for integration to the Alliance.
/Georgia Times/