Iran's foreign minister said Tuesday that the international community must move to prosecute Israeli authorities over the war crimes committed during the 2008-2009 incursion into the Gaza Strip.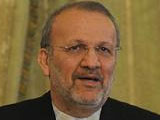 Manouchehr Mottaki told foreign ambassadors in Tehran that actions should be taken to prevent the reoccurrence of such aggression and illegal acts by Tel Aviv.
At least 1,350 Palestinians, including women and children, were killed during the three weeks-long war. Thousands more were injured while billions of dollars in damages were inflicted on the impoverished coastal sliver.
Mottaki said Israel has carried out numerous crimes during its illegitimate existence. However, the Gaza war further disclosed the regimes ugly face, he said in a statement released by the Foreign Ministry.
He said there should be international action must be taken against Israel for the use of unconventional weapons such as phosphorous and cluster bombs, and attacks on UN buildings by the Israeli Army during the Gaza war.
Mottaki added that inaction would provide Tel Aviv with an opportunity to jeopardize regional and global security.
/Press TV/