Iran denied passage to a Russian Su-27 fighter even though its flight plan had been cleared in advance, Russia's Foreign Ministry said Tuesday.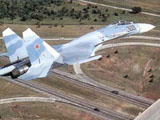 The Sukhoi Su-27 SKM was en route to Bahrain to be showcased to potential buyers at an air show, Reuters reported. The fighter is a single-seat plane that can carry guided weapons and operate in all weather conditions.
"For unclear reasons, when the plane approached Iranian air space, Iranian aviation authorities refused to admit it," the Russian ministry said.
The ministry said it had made the transit request in line with normal procedures. The Russians expressed hope that the issue could be resolved soon and the plane allowed passage.
/Press TV/