Iranian President Mahmoud Ahmadinejad Tuesday blamed the capitalist systems and US policies as the main causes of air pollution in the world.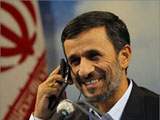 Speaking at a seminar marking the Clean Air Day in Tehran, President Ahmadinejad said the US causes one-fourth of the world's industrial emissions and must revise its policies to protect the environment.
He also criticized capitalism for damaging the environment in order to increase production levels.
Ahmadinejad said damaging the environment will ruin man's future and that his government had taken positive steps toward creating a pollution-free environment.
/Press TV/