A unique collection of some of the leading Iranian classical musicians has planned to perform a Peace and Friendship Symphony in Europe in the near future.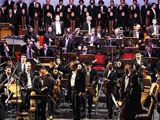 The Tehran Symphony Orchestra announced it was scheduled to perform some symphonies in Europe from January 22 to February 4.
Composed by Majid Entezami last year, the symphony aims to spread the message of peace and friendship from Iran to five European capitals including Rome, Paris, and Berlin.
The symphony was originally entitled the Islamic Revolution Symphony, but it has recently been renamed for the European concerts.
The Peace and Friendship Symphony was composed last year for domestic audiences in celebration of the 30th anniversary of the Islamic Revolution.
/Press TV/