After world powers failed to agree on new sanctions against Iran, Tehran says the parties involved in the UN-backed talks on Iran's nuclear program were showing "traces of realism."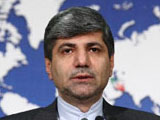 "Traces of realism by the negotiating sides can be seen concerning Iran's nuclear case," Iranian Foreign Ministry Spokesman Ramin Mehman-Parast told reporters at his weekly press conference on Tuesday.
"We hope the opposite sides will adopt appropriate approaches to turn these traces of realism into [a] suitable outcome," he added.
The spokesman urged certain Western countries to correct their approach and be realistic about Iran's nuclear issue.
The five permanent members of the UN Security Council plus Germany (P5+1) came together in the US capital on Saturday to discuss possible new sanctions against the Islamic Republic.
Russia and China reportedly opposed any new measures. Beijing even sent a lower-level diplomat to show its reluctance to support tougher sanctions proposed by the West.
Mehman-Parast pointed to the possible support of certain countries for imposing fresh sanctions against Iran and said, "Sometimes certain comments are politically-motivated and ... made under pressure."
"Speaking of sanctions is repetitive and it is not constructive," he said.
Mehman-Parast also touched on German Chancellor Angela Merkel's remarks that Iran could face new sanctions over its nuclear energy program and said that such threats are old and unconstructive.
He added that Iran's right to peaceful nuclear technology as an NPT signatory must be respected.
/Press TV/