The Turkish prime minister expressed his assurance on Tuesday to raise trade volume with Saudi Arabia.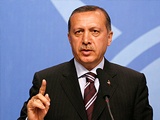 Turkey's Premier Recep Tayyip Erdogan said he was sure Turkey and Saudi Arabia would raise their trade volume to 10 billion USD in a few years.
"Our trade volume was over 5 billion USD in 2008, but was down to 3 billion USD in the first ten months of 2009," Erdogan said during a Turkish-Saudi Arabian businesspeople's meeting in Riyadh, Saudi Arabia.
Erdogan said he was also sure this figure could climb to 20 billion USD in following years.
The Turkish prime minister expressed readiness to support Saudi Arabian investors, and called on Saudi Arabian businessmen to invest in Turkey.
"Your investments in finance, tourism, communication, agriculture and heath will not only contribute to our best interests but also have a direct effect on economies of regional countries," he said.
Erdogan said he was hopeful about the region and sincerely believed that the Middle East could be turned into a geography of peace, prosperity and stability.
Turkey's Prime Minister Erdogan will Saudi Arabian Defense and Aviation Minister Crown Prince Sultan bin Abd al-Aziz Al Saud, and attend a banquet hosted in his honor by King Abdallah bin Abd al-Aziz Al Saud.
Erdogan will later meet the Saudi Arabian King.
/World Bulletin/