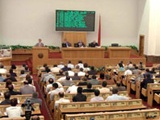 The Armenian Administrative Court has upheld a claim lodged by Patvakan Hovhakimyan, who acted as proxy for Nikol Pahsinyan, parliamentary candidate at the January 10 by-elections in Election District No. 10 in Yerevan.
The ANC representative complained about District Election Commission No. 10.
In his claim he pointed out that the commission summed up the results on January 14, whereas the deadline for appeals expired on January 15.
The commission also refused to accept an appeal lodged by Pashinyan's proxies.
The Administrative Court obliged Commission Chairperson Silva Markosyan to accept the appeal.
The respondent was not present at the court, but did not raise any objection to the verdict.
/News.am/