Iranian Oil Minister, Masoud Mirkazemi, and Syrian Syrian Minister of Economy and Trade, Amer Hosni Lutfi, reviewed ways of exporting Iranian gas to Syria.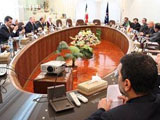 At a meeting held in Tehran on Monday, the two ministers emphasized expansion of bilateral ties between the two countries and they reviewed ways of exporting natural gas from the Islamic Republic to the Arab country.
Mirkazemi said that he will have further negotiations with Syrian oil minister to review possibility of exporting Iran's gas to Syria via Iraqi territories.
Iran greatly welcomes expansion of energy ties with Syria, he added.
Hosni Lutfi, for his part, announced his country's interest in buying natural gas from Iran.
Based on the agreements already made between the two countries, certain negotiations have been made with Turkey to import Iranian gas to Syria via Turkish territories, he said.
He said that a Turkish company has undertaken establishment of the pipeline via which Iranian gas is to be imported to Syria.
The pipeline will have 50 kilometers length, which is to be extended to Syrian borders, he added.
/MOJNEWS/